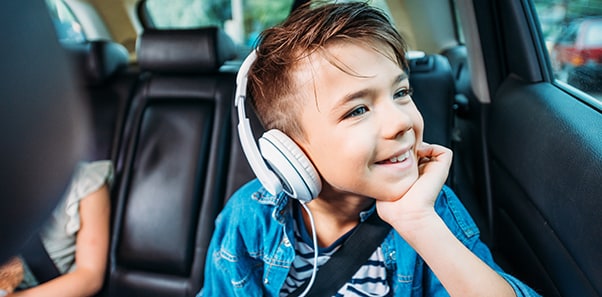 We've all been there – you're driving down the road with the kid's screaming in the back, you've got a headache and it's hard to concentrate on driving. Playing a song that engages your kids will make road trips a little easier, and safer for your whole family. Here are our top picks for songs that will keep your young ones entertained for hours.
Baby Shark, by Pinkfong
While Baby Shark doesn't have a lot of words, and is repetitive enough to haunt your thoughts deep into the night while you're trying to go to sleep, it's simplicity and upbeat tempo will have your children merrily singing along for hours – complete with hand motions and a funny little singalong dance.
Old Town Road, by Kidz Bop Kids
This modern song by Lil Nas X featuring Billy Ray Cyrus has been a hit among adults, and has single headedly revitalized the country music scene. Kid's love this song too, and this redux by KIDZ BOP Kids has a talented group of children reciting the song in its entirety, and staying true to its eclectic hip-hop/country soul.
Happy Birthday, by Leif Garrett
This new take on a classic hit by The Beatles is not just your average "Happy Birthday" song as sung at parties. It's an upbeat, rock and roll style rendition with high energy and unique lyrics that are fun and easy to sing along to. This song will definitely have a place at your young ones festivities, but any other day of the year is great too, just because this song is so fun and engaging.
Hot Dog!, by They Might Be Giants
This song sounds like it's straight out of a cartoon soundtrack. It's super bouncy and fun with great instrumentals and some more complex lyrics that stay exciting and positive. Performed with spirit by They Might Be Giants, you might even find yourself tapping along on the steering wheel and bobbing your head to the enjoyable rhythm.
Pokemon Theme, by Pokemon
Pokemon is one of the most successful kids franchises in recent history, with hundreds of unique monsters keeping kids entranced through a hit TV show and many other avenues both online and off. The Pokemon theme song is an exciting epic reminiscent of 1980's rocka and roll urging you and your kids to catch as many Pokemon's as you possibly can, to be courageous and endeavouring.
Raining Tacos, by Parry Gripp
I think it's safe to say that most kids are fans of the meat and cheese delight known as the common taco. In fact, it's popularity probably only comes second to pizza (and possibly hot dogs?) Your child will see the hilarious obsurdity of taco's falling out of the sky fully assembled and ready to eat, and you will delight in a musical treat equaling a trance song from the 90's. If you're not a fan of trance music, chances are good you'll like this song anyway, and the smile it puts on your child's face just can't be beat.
Peanut Butter Jelly Time, by Chip-Man & The Buckwheat Boyz
This song has been a hit among kids for a while now. It's popularity just wont fade because it's so catchy and memorable. Not everyone likes peanut butter, but every kid likes this song, and it's easy to see why. The quick tempo and aggressive yet fun vocals scream high energy and your kids will be having fun at every new verse.
Cups, by Jean Simone
This is a great song for kid's and adults alike. It's classic country tone is not overpowering – it's a heartwarming tune with poppy background music and Jean Simones soft voice gives you that warm, fuzzy feeling, so you'll definitely miss her when she's gone.