Welcome to Calgary's most state-of-the-art auto body shop in Calgary!
The Calgary body shop team here at the
Country Hills Hyundai
collision department have over 10,000 sq. ft. of production space to make sure your new or
used car in Calgary, AB
gets repaired quickly in our specially designed downdraft spray booths to ensure a perfect finish - every time! We offer a wide variety of Calgary body shop services and work with all major insurance companies.
All Calgary body shop services will be performed at our body shops located at Sunridge Nissan (2701 32 Ave NE, Calgary, AB T1Y 6J1) and CMP Automotive (1313 36 St NE, Calgary, AB T2A 6P9).
Call 403-984-9696,
schedule a collision repair appointment
online or email
collision@chhyundai.com
to book today.
OUR SERVICES

Ability to repair all makes and models
3M Paint Protection installation
Full availabilty of aftermarket and used parts
Full mechanical shop on-site for repairs
In-house glass installer
In-house glass tinting
Box Liner Systems
In-house detailing department
Fiberglass repairs
SMC Repairs
Aluminum panel replacements
Customer Service - takes care of YOU and your vehicle
Technicians - nobody is in a better position to restore your vehicle to the highest quality standards.
Repair Facility - advanced equipment, clean and orderly facility, manufacturing specifications and a thorough understanding of how your vehicle is built.
We also apply DuraShield Premium Paint Protection Film; it is a formidable defender of the appearance of any vehicle's surface from the daily wear and tear caused by small stone chips, insects, and other kinds of road debris. DuraShield is virtually invisible protection that does not detract from a vehicle's appearance; unlike vehicle bras and plastic bug deflectors. When professionally applied by us DuraShield provides years of protection to the appearance and value of cars, trucks, SUVs and RVs, Safeguard your vehicle investment with DuraShield.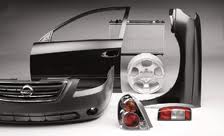 Things you should do if you're in a collision:
Stop immediately; move vehicles if they impede traffic
Turn off ignition
Warn other traffic with hazard lights and/or flares
Exercise caution when exiting the vehicle
Establish whether anyone requires medical attention
Secure names of witnesses before they leave the scene
Call the Police if:
Anyone is injured
The damage is over $2,000
An offence has been committed
Notify your insurance agent promptly
Document all pertinent information
At our collision department, our team of skilled collision technicians have experience working with all makes and models, and will swiftly determine your vehicle's needs. Using
genuine Hyundai parts
, they will restore it to its original condition. If your vehicle is out of commission for a major overhaul, we can arrange a short-term rental.
With our combination of experience, state-of-the-art equipment and a genuine desire to exceed your expectations, meeting your needs is simple. If you have any questions, give us a call or
contact Country Hills Hyundai
online.
We also repair all the brand of vehicles listed below: