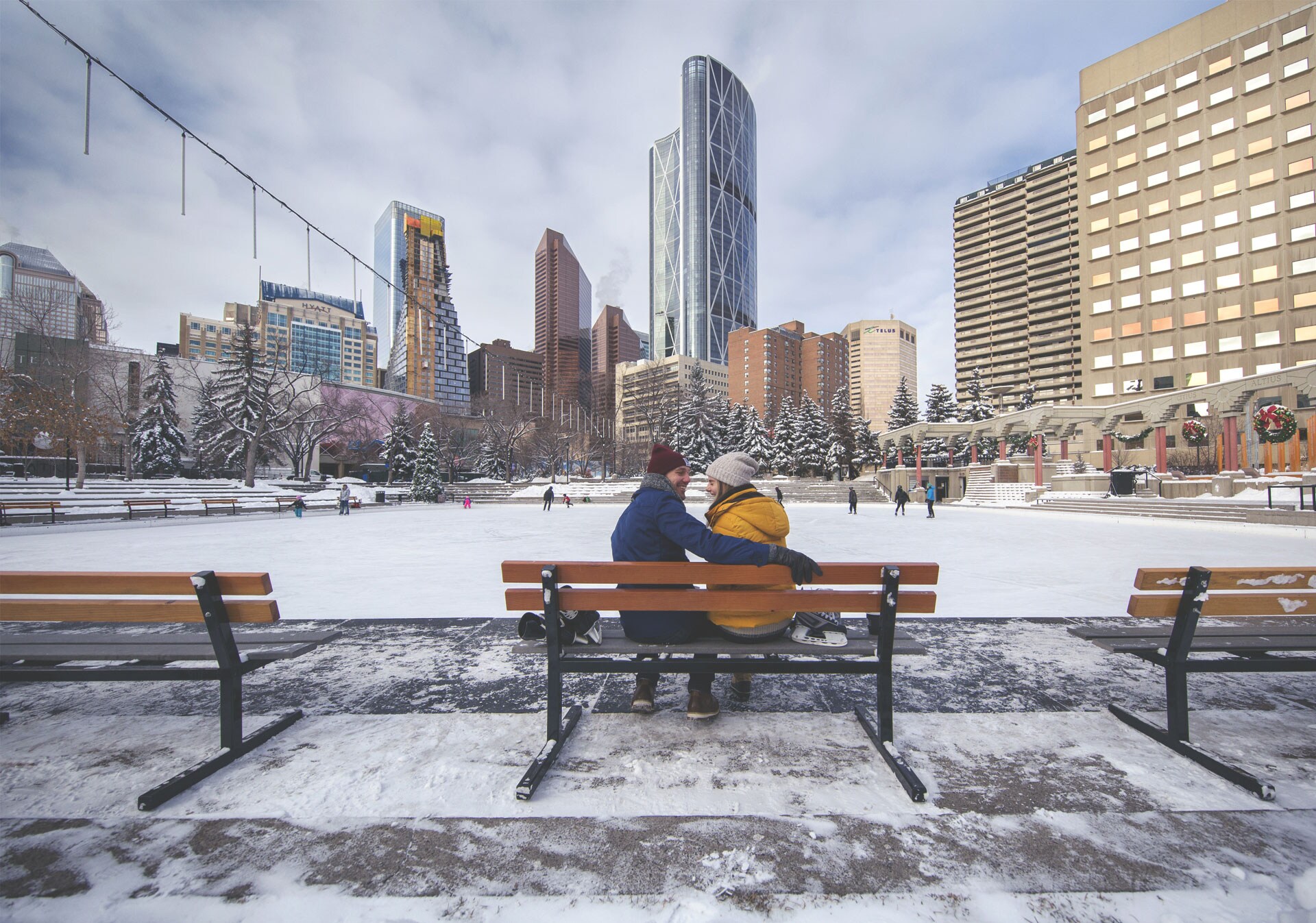 Greetings love birds! Let me introduce myself. My name is Ellen the Elantra. With the day of love right around the corner, I thought I would tell you my best date ideas to stir up some romance and celebrate Valentine's Day with your significant other in and around Calgary.
While I enjoy driving into adventure with my date surrounded by mountains and making sure we arrive safely within my strong metal skeleton, my list of date ideas includes something for everybody!
Spend the day in the mountains
Calgary is surrounded by the world's most spectacular sprawling mountains. Head west for a fun day trip with your love bug. Be sure to pack road trip essentials: yummy snacks and a killer playlist! Drive to Banff to enjoy the Aspenglow Festival, go for a walk in Johnston Canyon to enjoy the stunning frozen waterfall or head an hour westward to revel in the beauty of the ice sculptures on frozen Lake Louise.
Go for a walk
Slow down and enjoy each other's company at the Riverwalk, a hidden, not-so-secret gem snuggled beside East Village. Walking distance from Prince's Island Park and Peace Bridge, the park offers winding lanes along the edges of the Bow and Elbow rivers for a romantic walk with beautiful views, comfortable benches and, for the caffeine lovers, a multitude of espresso options at Phil and Sebastian Coffee Roasters.
Enjoy the sunset with your sweetheart by heading towards the stairs that lead to the lookout point at Crescent Heights. The views from the cliff side look straight over downtown, offering breathtaking views of the Calgary skyline.
Go to the farmer's market
Calgary's Farmers Market hosts its annual Valentine's Day event- the perfect date if you are looking to get out of the house and enjoy some local tastes. The market transforms into a romantic Valentine's destination with a professional photo booth, musicians belting out love ballads and a giveaway for a romantic Valentine's getaway.
Tubing
Looking to get active with your sweetie on Cupid's day? Hit the slopes in the most fun way possible at Winsport's TubePark! It is one of the fastest of its kind in Western Canada and features nine lanes, many close to 200 metres in length. It's open from 4PM to 7:30PM on Friday, February 14.
Skating and Hot Chocolate at Olympic Plaza
Skating on Valentine's Day is the best way to get cozy and close on a budget! It's the best time of the year to go skating before the ice melts. As you and your partner both cling on to each other trying not to fall on the ice, the only dough you will be spending is on skate rentals if you don't have skates of your own. This centrally located outdoor skating rink offers rentals at an affordable rate of only $12. Also, with YYC Hot Chocolate Fest on until February 28, it becomes that much easier to take a break with a cup of cocoa and escape the cold, while also giving back to the community.
Olympic Plaza too far? The city maintains many outdoor rinks around the city.
Dinner for two
Show off your cooking skills! Put on your chef's hat, warm up the stove and get the kitchen party started as you whip up a fancy (or not-so fancy) homemade dinner for your special Valentine.
Culinarily challenged? Don't fret. Take your date on a couples cooking class. Spend quality time in the kitchen, learn a new recipe and connect over a delicious meal you've prepared together. These classes are fun, romantic and memorable. Click here to book a class for you and your honey.
Have a Laugh
You and your date love to laugh? If you love a sense of humour in a partner, then take your date to a comedy show. Enjoy a night of laughter and good food at the 20th annual FunnyFest Calgary Comedy Festival Society.
Need an upgrade to your ride? Impress your partner by learning more about the different personalities on Country Hills Hyundai's showroom floor.